Top O'the Mornin and a ver Happy Saint Patrick's Day to you!  (That's me at St. Patrick's tomb, in Ireland, in 2010)  As this is the "inaugural" blog post for the NEW & IMPROVED InTomsRiverNJ.com, let's start with real estate...
Toms River Real Estate
After nearly a decade of decline, the Toms River real estate market is finally coming back and it's coming back strong. Now, before you get all giddy and think your home is worth what it was in 2005/2006, let's put things in it's proper perspective; by coming back, I mean even though home prices in Toms River have increased (7% in 2015), we still have a ways to go and some local challenges to over-come.
We'll explore each of these "challenges", in detail, in future posts but for supporting purposes, here are the "Top 3 Real Estate Challenges" we still face here in Toms River:
Waterfront Homes (Superstorm Sandy is still affecting a third of our local housing market).
First Time Home-Buyers (College debt and limited employment opportunities are affecting this segment).
The "Move Up" Buyer (Although their equity is slowly returning, their selection of available and affordable inventory is limited).
Don't get me wrong, I'm optimistic about our local real estate market in 2016.  I just don't want everyone "believing" their home is worth more than it really is (market value).  For an automated valuation of your Toms River home's value, CLICK on the image below (This is an algorithm.  For a more accurate analysis, I need to see your home.):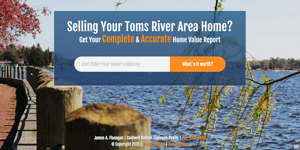 Toms River Places
Amidst all of the changes that have taken place in Toms River, over the last few years, the most consistent and yet surprising changes involve our local restaurants and watering holes.  We said "good bye" to Tiffanys (Closed), The River Market (Moved) and Mulligans (now Pub 1850), to name a few.  We said "hello" to Buffalo Wild Wings, Social 37 and Bahama Breeze.
I will personally attempt to patronize and "review" each and every "place" in Toms River, by category/specialty, but here are my "Top 3 Breakfast Places" in Toms River:
JB's Cousins Diner
My plan is to post a "Video Review" a week, so stay tuned!
Toms River People
Last (today) but certainly not least, are the "people" who make and sometimes shake Toms River.  If you haven't heard of Jeremy Grunin yet, you will soon!  Jeremy is a very busy guy.  As head of the Jay & Linda Grunin Foundation, Jeremy is obsessed with making Toms River better.
I'm going to post (very soon) about all the wonderful things the Jay & Linda Grunin Foundation have done for Toms River, as well as what they have planned, but if you want to get a glimpse of Jeremy Grunin, tune in to WOBM-AM "News Talk Radio" 1160AM and 1310AM and "Wake Up with Jeremy", like I did on February 11th:
Well, that's it for today.  I wanted to keep it short and sweet (this time).  Look for more Toms River real estate, Toms River places and Toms River people soon!
Thank you for finding me, coming back and SHARING this site with anyone and everyone who loves to call Toms River, "home".
Slainte!
Jim